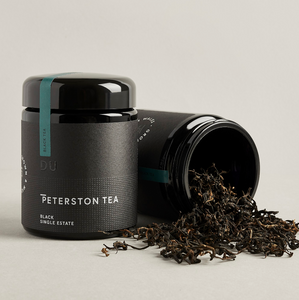 Peterson Tea
Welsh Black Tea
Regular price
£16.00
£0.00
Unit price
per
NEW SEASON 2023
Single Estate Welsh Black Tea
Hand picked and crafted, it brews as a lovely 'drink all day' cup of tea, very mellow & smooth with low astringency.
Ethically farmed with no herbicides or pesticides - our farm is registered as organic with The Soil Association.
Tea Notes for 2023:
Variety: Camelia sinensis var. sinensis - all grown lovingly from seed
Wet leaf: sweet, slightly jammy fruit notes
Liquor: Pale amber with a honeyed fruit nose
Palate: Light bodied, very smooth with flavours of mixed fruit, hints of honey and the odd touch of hazelnut
Brewing: Really comes into its own with a short first infusion at about 85 – 90c – can easily be infused 2 or 3 times. We'd recommend around 3g for 200ml.
WEIGHT: 12g
---