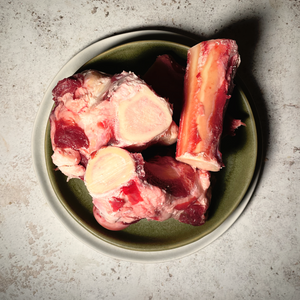 Gower Meadow Beef
Pasture Fed Beef Bones 1Kg
Regular price
£3.35
£0.00
Unit price
per
Marrow bones ideal for making restorative bone broth; the perfect base for soups & casseroles. 
Packed full of antioxidants and Omega 3 fatty acids, our cows have been pasture fed and enjoy a peaceful life grazing the native wildflower meadows of our small farm in Penmaen, South Wales.

Due to our small herd size, where nature conservation and welfare standards are priorities, we can only sell frozen products to ensure a near continuous supply. 
Pasture fed cattle have lower total fat levels than grain fed animals.
To find out more visit pastureforlife.org
Our beef is aged for 21 days which gives it a full flavour and dark colour



Shelf Life: 1 Year

---