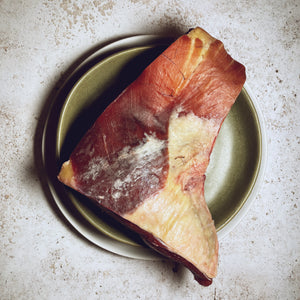 Gower Meadow Beef
Pasture Fed Leg of Beef Mutton Cut
Regular price
£12.30
£0.00
Unit price
per
Leg of mutton cut, a lean and tasty slow roasting joint.
All our beef is sold frozen unless otherwise stated. It is rapidly frozen on day of collection from the abattoir. Due to our small herd size where nature conservation and welfare standards are priorities, we can only sell frozen products to ensure a near continuous supply.
Pasture fed cattle have lower total fat levels than grain fed animals. You will notice that our beef has yellow fat. This is caused by the anti oxidant Beta carotene. Pasture fed beef has high levels of Omega 3 fatty acids, which are essential for brain function and development. It also contains higher levels of CLA and is richer in many vitamins and minerals than grain fed beef. To find out more visit pastureforlife.org
Ingredients: Minced Gower Meadow Beef, organic onion, breadcrumbs, Halen Gwyr Sea Salt, pepper, Worcestershire Sauce. ALLERGENS: WHEAT, FISH. 
---