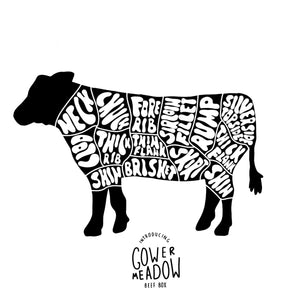 FarmCo
Pasture Fed Beef Box
Regular price
£82.00
£0.00
Unit price
per
Introducing The Pasture Fed Beef Box - From Gower Meadow Beef.
Organically Raised Happy Cows
Newly Pasture For Life Certified, Gower Meadow Beef are food champions of the peninsular. Ensuring fully grass fed, grass finished produce, Emma and the Douglas family use sustainable farming methods to rear and graze their cows, promoting wildlife and biodiversity.
Fully grass fed beef is a hot topic for health with more and more studies providing evidence that small scale a naturally farmed beef is highly nutritious in comparison to grain fed meats. Studies conclude richer density in lots of essential vitamins and of course, there are no pesticides, chemicals and fertiliser used on the farm.
This is truly an high class product offered at a reasonable price. A best seller at FarmCo and now available in bulk as a Beef Box!
Rapid frozen to lock in goodness and to combat food waste.
Small box - £60

1 x slow roast joint
1 x prime joint
1 x 500g diced beef
2 x 500g mince
2 x sirloin steak

Medium Box - £120
2 x slow roast joints
2 x prime roasting joint
2 x 500g diced
4 x 500 mince
2 x sirloin steak


Large Box - £150

2 x prime roasting joints
2 x slow roast joint
4 x mince
2 x 500g diced beef
2 x braising steak/ shin
4 x rump steak
2 x sirloin steak
*Some items might vary due to availability and season but we will honour weight and value if there are any changes*
---