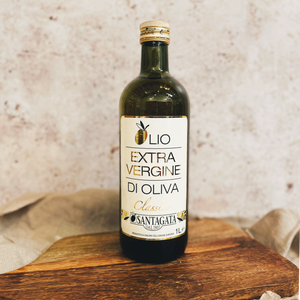 Santagata
Extra Virgin Oil
Regular price
£7.00
£0.00
Unit price
per
Pure Extra Virgin - Superior quality olive oil, rich flavour, nutritious.
Available in 1L or 500ml.
The fresh and grassy perfume of Classic Extra Virgin Olive Oil makes it perfect to be used as basic ingredient of good cooking. Thanks
 to its long-lasting fragrance and its distinctive delicate taste, this oil is suitable for everyday cooking.
Classic Extra Virgin Olive Oil is recognizable by its grassy perfume and its well-balanced taste.
It presents a grassy aroma of medium intensity; on the palate it reveals a harmonious and well-balanced flavour.
In addition to its sensory features, extra virgin olive oil stands out also from a nutritional point of view. 
---