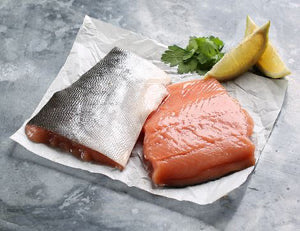 Sole Of Discretion
Pink Salmon
Regular price
£8.55
£0.00
Unit price
per
Sustainably Caught Pink Salmon from Alaska.
Wild salmon from Alaska is one of the world's best examples of a sustainably managed fishery, and we have teamed up with a small-scale fishing family  to import their salmon, as well as others from Bristol Bay.
 Sole of Discretion- We are committed to procuring fish and shellfish that have been caught with as little damage to the marine environment as possible, have contributed to the livelihood of small-scale fishers and their communities, and to get these high quality and delicious fish to your door.
---