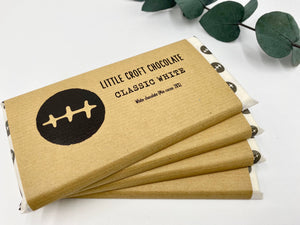 Little Croft Chocolate
Little Croft Chocolate-Classic White
Regular price
£4.00
£0.00
Unit price
per

White chocolate (Min cocoa: 28%)

Little things can have a big impact and that's why in this rich and creamy white bar you will find:

A delicate balance of silky, milk texture with hints of vanilla for that perfect white chocolate moment.
Simple and delicious ingredients with none of the bad stuff added.
A mouth watering experience leaving you wanting more! After all, anything can be solved with a little bit of chocolate (or a lot, that's up to you!).
68-70g Bar
Allergens: milk and soya
May contain nuts.

No added colours or preservatives.
---