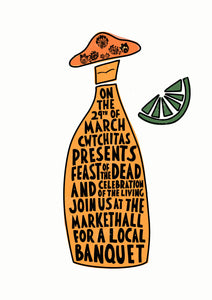 FarmCo Market
Feast Of The Dead Ticket
Regular price
£47.00
£0.00
Unit price
per
We are delighted to announce the next instalment in our Supper Club series.
We have been working with Jordan, Sara and Kal from Cwtchitas to create a special cultural Feast of The Dead and celebration of living through good food and community.
We have challenged Cwtchitas to come up with a 25-mile menu using ingredients from our local suppliers and to incorporate all of autumn's seasonal delights. This will be paired with the girl's incredible talent of adding a colourful twist from the south.
If you are not familiar with Cwtchitas, they are a creative chef team who have built a successful business around the culinary delights of Mexico. The girls are passionate about provenance and flavour and have created an adaptable business model travelling South Wales and popping up in Food Festivals and indie businesses.
You can also find their permanent Taco Stand at Founders and Co in the City Centre.
Expect a feast-style supper around the FarmCo table, lots of plates, big flavours and spice, margaritas, tequila and Latino sounds
Early bird tickets are £47 this week and will go up to £55 next Monday – We are expecting to sell out fast.
Tickets include a large drink on arrival. 
Day of the Dead dress code and face paint is encouraged.
Friday 29th March 2023 
7pm - Late 
---